Dean Friedman - In Concert
The Shinfield Players Theatre, Reading.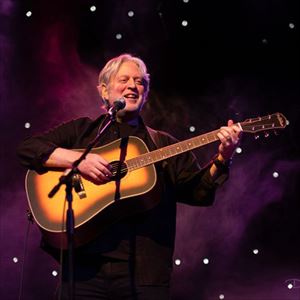 Don't miss this rare performance by this legendary singer-songwriter. Hear hits like Ariel, Lucky Stars, Lydia, McDonald's Girl and more... live! PLUS special guest Tracey Curtis
More information about Dean Friedman - In Concert tickets
Dean Friedman
Hailed by critics and fans alike as a one of the finest songwriters of his generation, Dean Friedman has achieved legendary, pop-icon status for chart-topping hits, Ariel, Lucky Stars, Lydia, McDonald's Girl and more.
Friedman returns to the stage armed with a stunning collection of his insightful and compelling, true-to-life 'story songs' - songs of pathos and humor that deal with family, friends, neighbors, work and the seemingly trivial, yet ultimately essential stuff of everyday life.
"Soundtrack of our lives!" – NYTimes; "Songsmith extraordinaire!" – MusicWeek; "Dean Friedman is entirely unique and utterly brilliant" – ThreeWeeks; "Stunning Musicianship!" - Hot Press; "One of the true greats of American music!" - Liverpool Sound and Vision
A consummate entertainer, Friedman will be performing solo, on guitar and keyboard, featuring songs from throughout his four-decade career, including familiar, radio hits and fan favorites, drawn from his eight studio albums. Invite family and friends and join Friedman for an evening of powerful, poignant and hilarious songs about the ordinary and extraordinary lives we share.
plus 'special guest' Tracey Curtis
You're bound to enjoy her uniquely personal and thoroughly engaging songs. Tracey Curtis describes herself as an anarchist, a vegan, an activist and mother who bases herself in Ammanford, West Wales. Tracey was a member of the truly wonderful post-punk pop band, Shelley's Children. Since then she's released three acclaimed solo albums containing deftly crafted and beautifully performed, heartfelt songs about real life, love, and politics. If you've never heard Tracey perform her joyous, delightfully poignant and bitingly funny songs, you're in for a rare treat.